The Australian Department of Home Affairs are rejecting more partner visa applications than ever before and many are refused due to simple mistakes, inconsistencies or incorrect evidence. With the non-refundable application fee being over $7,000, these can be very costly mistakes.
Relationships need to be proved with strong, consistent evidence. With this financial and time commitment involved, not to mention the emotional investment, it is crucial that you do everything you can to submit a strong visa application.
Fortunately, there are some simple and practical things you can do (or not do) to greatly improve your chances of success.
In this article, we take a look at some common visa mistakes couples make when applying for a partner visa in Australia.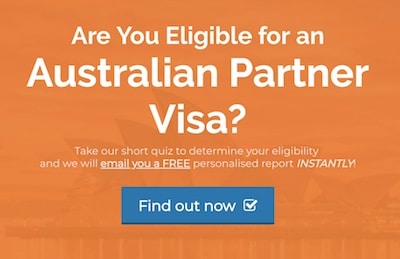 1. Inconsistency
Consistency across all documents for your visa application is crucial as Inconsistency will be a red flag to the immigration official reviewing your application. When applying for a partner visa in Australia, you will be required to submit multiple documents. Some of the information requested on these will seem repetitive, and some will be identical, such as your address details, certain information about your relationship, travel and your history.
While this might seem trivial, the potential consequences of answering inconsistently could be that your partner visa application is refused or delayed through carelessness. It might be an honest mistake or oversight, but all of this information is treated as visa evidence that immigration officials will use to determine the strength of your application.
Before you start your application, draw a timeline of your relationship. Be sure to refer to this for each document you complete for your application, especially the relationship statement to make sure it flows coherently. We recommend that you also do a cross-check of this timeline against all your documents before submission as a final check that it all matches up.
2. Conflicting evidence
This is another of the common visa mistakes we see that is easily avoided. Due to the long processing times that can apply to any partner visas, couples might change their address in the period before and between lodging the application and having their case considered.
It is important that any changes are updated on both partners' forms and correspondence to ensure the Home Affairs Department understands the relationship is genuine and ongoing. Separate or conflicting addresses might indicate to the case officer that your relationship has terminated.
3. Insufficient Evidence
One common mistake that applicants for partner visas that we see often is making your relationship statement too brief. As this is the foundation for your partner visa, the statement is crucial to your application so it is very important to get it right.
We would recommend:
Spending at least 6-10 hours on drafting your relationship statement
Relationship statement is anywhere from 4-10 pages
Provide a very detailed description of how you met your partner
4. Being vague about the key dates in your relationship
Missing out the specific details of the key dates in your relationship is one common mistake that applicants make.
We recommend that when you create your relationship timeline, you include all the important moments in your relationship including:
When you met
When you committed to the relationship
When you moved in together
When you got engaged
When you got married
5. Only talking about one aspect of your relationships
This is an easy mistake to make, as it is obvious to talk about the big moments in your partnership, but just as easy to miss the day to day aspects. You need to go into the domestic details of your life together. We recommend you include the following aspects of your relationship:
The Financial Aspect
How you share money?
Who pay bills?
Do you both have access to bank accounts?
Household Aspect
Where do you live?
What is your household routine?
Who does which chores?
Social Aspect
What do you do for fun as a couple?
What do you do on the weekend?
Do you have regular things you do together?
Who are your mutual friends?
What holidays have you been on together?
Mutual Commitment to a shared life
What plans do you have for the future?
What are your mutual goals?
6. Irrelevant evidence
Because it is such a life-changing step, when applying for a partner or spouse visa in Australia, couples often think they have to include everything they possibly can in their application. However, it is important to appreciate that not everything counts as visa evidence.
We recommend thinking about whether each specific piece of information you plan to submit is relevant, demonstrates the genuine nature of your relationship, and supports the information supplied elsewhere in your application.
Also, think about how the evidence fits with the entirety of your application as immigration officials will consider this.
7. Not making it personal enough
Some people find it difficult to talk about their feelings, but omitting the reasons why you love each other and the future that you dream of together is a mistake. You want the person reading your application to feel that the love that you have for each other is genuine and true.
We recommend making your relationship statement feel personal and individual to your circumstances. Ensure that you end with a closing statement with those specific little things that make that person so special to you.
8. Not being honest
This is one of the common visa mistakes that can lead to having a visa application refused or rejected. When you submit an application for a partner or spouse visa the case officer needs to have all the pertinent background information on the applicant. It is essential to disclose key factors such as any minor criminal conviction, the extent of a relationship or a period of separation from your partner.
While it might be tempting to leave out details that you think might jeopardise your application, omitting something that is relevant could prove costly when it is uncovered at a later date (not to mention it being unlawful).
The same goes for submitting fraudulent documents as visa evidence. Being honest and upfront is always the best policy. The penalty if it is discovered that you submitted false information could include a refusal as well as a ban on reapplying for three years and a jail sentence.
9. Not checking your social media profile
You might not think that what is posted on social media platforms would have an impact on your Australian partner visa application. However, it is important to ensure that what you post on both of your social media accounts is up-to-date, accurate and honest. Immigration officials will dig into your background and if what you post on social media doesn't match the facts submitted in your application, this could be a major issue.
We recommend checking all your social public profiles to ensure they don't contradict anything you have submitted on your application.
Examples of things that could present a problem could include failing to update your relationship status on Facebook. This may be due to a legitimate reason, such as a couples wishing to keep their relationship discreet, especially in the case of same-sex couples. Other examples could be travel, housing or any other posts that do not seem to match up with your application.
Likewise, your immigration officer may also investigate public records, so claiming certain qualifications on your social media page that you don't hold could also cause a problem when the educational establishment fails to verify the information.
10. Not using an expert immigration lawyer
While it is not a requirement, using a expert immigration lawyer is one of the best ways to avoid having your Australian partner visa rejected. Using the services of a professional who knows the process, could be the key to your new life together.
An expert in the area knows the Partner visa process and requirements inside out, and they will be completely up-to-date on changes or amendments to processes and requirements within the Department of Home Affairs. They will provide critical advice as to how to complete your application to give it the best chance of success given the current political landscape. They will be able to support and guide you through the process, advising you and cross-checking all your supporting evidence and timelines, which will greatly reduce the chances of having your visa application refused.
When it comes to obtaining a partner or spouse visa, Australia has strict rules in place and case officers who will be thorough and diligent in examining your evidence, documents, as well as any supporting information you provide.
What Next?
The cost of obtaining a partner visa is currently in excess of AUD$7,000, which means it is important to give yourselves the best chance of success. After all, you have a lot invested in your application and you owe it to your future to do everything you can to ensure the visa process is as trouble-free as possible.
At Timpson Immigration lawyers we are experts in Partner visas and with track record of 100% success, talk to us today about how to get started.
HOW WE CAN HELP YOU
Are you unsure of where to start and need some help? Timpson Immigration Lawyers are experts in this area, specifically specialising in partnership visas.
Get peace of mind with our 100% Success Rate
We have options to suit almost every budget including out $495 Check It Service
We take away the risk, stress and uncertainty
Clear and transparent fee structure
We have in-depth experience with Character, Health and LGBTQI visas
We understand how important these cases are to each individual
Our single goal is to get you that YES
With all the changes in the Department of Home Affairs, getting a visa in Australia can be a daunting and confusing process. With the right help, you'll be can be starting your new life in Australia together. For us, it's personal.
Call us for a quick chat to see if we can help you right away
 1300 193 326 (Australia)
Or + 61 1300 193 326 (International)